Add Warmth to Any Space with Durable, Cozy Carpets
Carpet in Southaven, MS
Looking for new carpets to add warmth to your home? Tim Hogan's Carpet & Floors carries a wide selection of carpet choices to fit any room, budget, and lifestyle. Available in a wide variety of colors, patterns, and styles, carpet is a great choice for any room of your home or business. Finding the perfect carpet for your space can be tough, but our team of flooring experts is here to help you every step of the way. At Tim Hogan's Carpet & Floors, we are here to answer any questions, listen to your needs, and guide you to the carpet types that are best for what you need. When you're ready, we'll even be here to perform your installation. Visit our Southaven, MS, showroom to get started selecting your new carpet flooring today!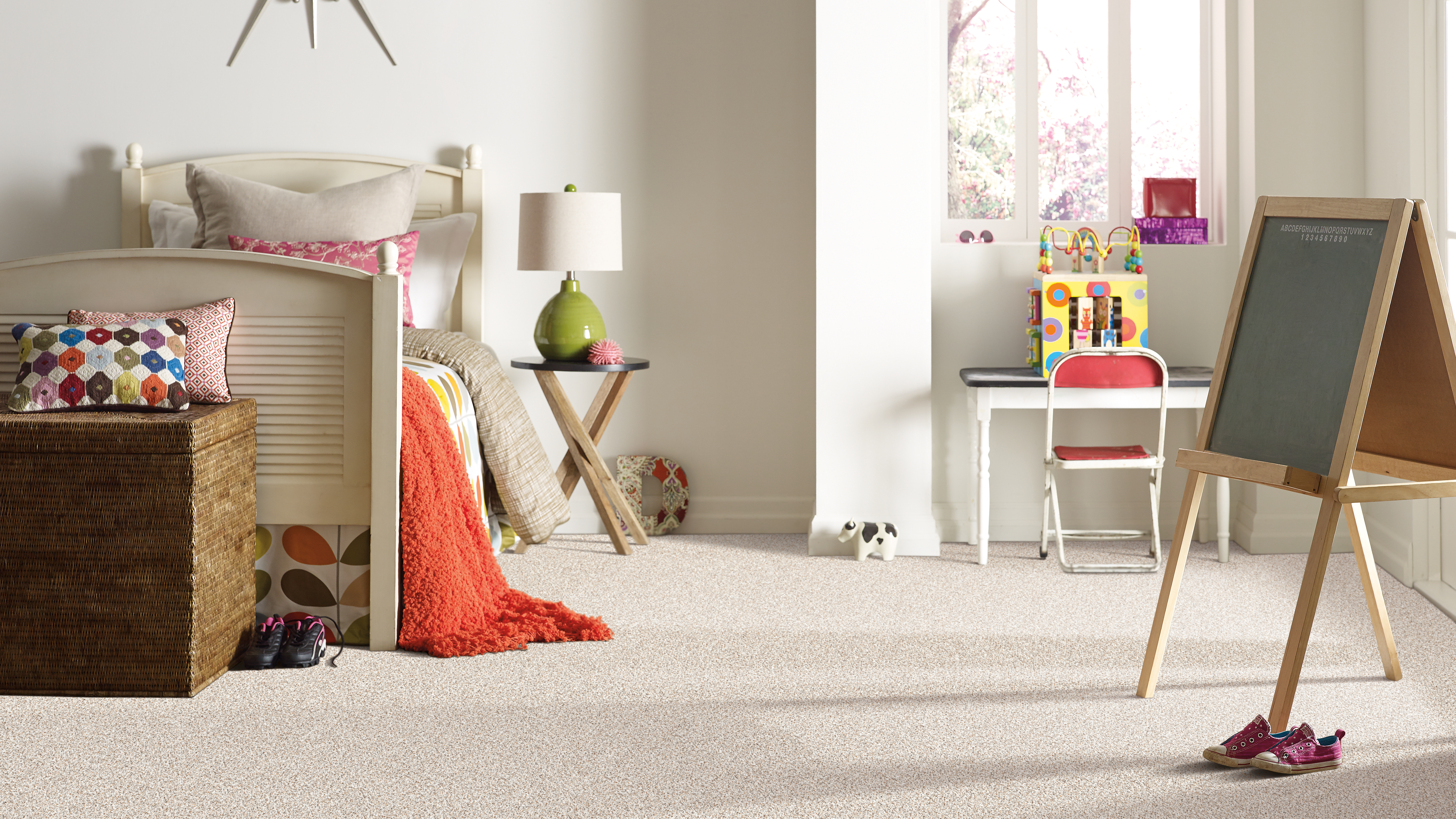 Your Guide to the Types of Carpet
There are different types of carpet available in our Southaven showroom for you to choose from. When deciding on which type of carpet is best for your space, it is important to consider your lifestyle, budget, and the type of room you are planning to install the carpet in. When you work with us to find your perfect carpet, we'll help you find the best type of flooring for your flooring needs. Learn more about the types of carpet that we offer:
Berber

has large, uncut loops of natural-tone fibers and is denser than most other carpets. It is soft and cushiony underfoot, comes in a variety of pile heights, and can be constructed as a multi-level loop or level-loop carpet.

Frieze

offers a short, twisted pile that is ideal for busy areas. It is often used in commercial spaces. This type of carpet is known for being soft, plush, and silky smooth to the touch.

Loop & Cut-loop

carpets are made out of uncut looped fibers that offer a level surface that is usually woven or tufted.

Patterned

carpets are made using screen printing and make a bold statement in any room. They offer a combination of cut and loop piles, allowing more textures and pattern options.

Saxony

is a luxurious cut-pile carpet known for being resistant to shading, wear, and traffic marks.
The Benefits of Carpet
Our carpet selection is like no other and comes from the best brands and manufacturers in the industry. We only carry the best flooring products so you can rest assured that you are getting exceptional flooring that will last for many years to come. We proudly offer selections from top-quality carpet brands such as Core Elements, Design Distinctions, Innovia, Mohawk, Resista, Tigressa and more! Our Southaven customers love carpet's beauty and performance, but there are so many other benefits that make carpet flooring ideal for your home, such as:
Absorbs sound, making it a less noisy flooring surface to walk on.

The soft, non-slip surface makes it a safe flooring for kids and pets to play on.

One of the most affordable flooring types on the market.

Treated to resist stains and any kind of soil, making them easy to clean and maintain.

Adds style to any space and gives a room an entirely different feel.

Brings warmth and insulation.
Durable Waterproof Carpet
We know it's hard to believe that there are waterproof carpets, but trust us, there are and they are so worth it! Waterproof carpets look like any other carpet, except they have a protective backing that prevents moisture from reaching the subfloor underneath. When you have a waterproof carpet, stains will stay on the surface and not seep through, making them easier to clean and less likely to leave a stain. These types of carpets are perfect for active households with kids and pets!

How Do I Care For My New Carpet?
Keeping your carpet clean is easier than you would think! All of our carpet selections were made with long-term wear and tear in mind so they can withstand even the toughest of staining and damages. Here are our best carpet care tips to keep your carpet looking brand-new for years to come:

Regular vacuuming (at least twice per week).

Schedule an annual professional-grade cleaning.

Treat any spills or stains as soon as possible.
Be sure to check your carpet's warranty before using any cleaning products. Some cleaning products contain chemicals that can damage the fibers of your carpet. Our flooring experts are more than happy to make a cleaning product recommendation that will keep your carpet looking brand new for years to come!
Professional Carpet Installation Services
Get the most out of your investment by leaving your flooring installation in our hands. Our team of skilled installers has years of experience under their belts, so you can have the utmost confidence that your new carpet will be installed perfectly. We are so confident in the work of our installers that our installation services are backed by our Ultimate Confidence Guarantee. This is our promise to you that if you are unhappy with the work of our installers or your new carpet, just give us a call within 30 days of your initial installation and we will replace your flooring with a similar product at no additional cost to you!

Contact us to learn more about our carpet selection and installation services. We proudly serve customers in Southaven, MS, and the surrounding communities.