Hardwood Flooring in Southaven, MS
When you're looking to refresh your floors, consider warm and beautiful hardwood flooring from Tim Hogan's Carpet & Floors. At our showroom in Southaven, MS, we carry a large selection of engineered hardwood flooring that will give any room in your home a timeless appeal. A new hardwood floor can add a touch of charm and sophistication to your space. Our team of flooring experts is here to help you find your perfect wood flooring. We'll be there for you every step of the way. From selection to installation, you can rely on us to help guide you to the hardwood flooring product that best fits your design goals and performance needs. Visit us today to get started on your flooring renovation!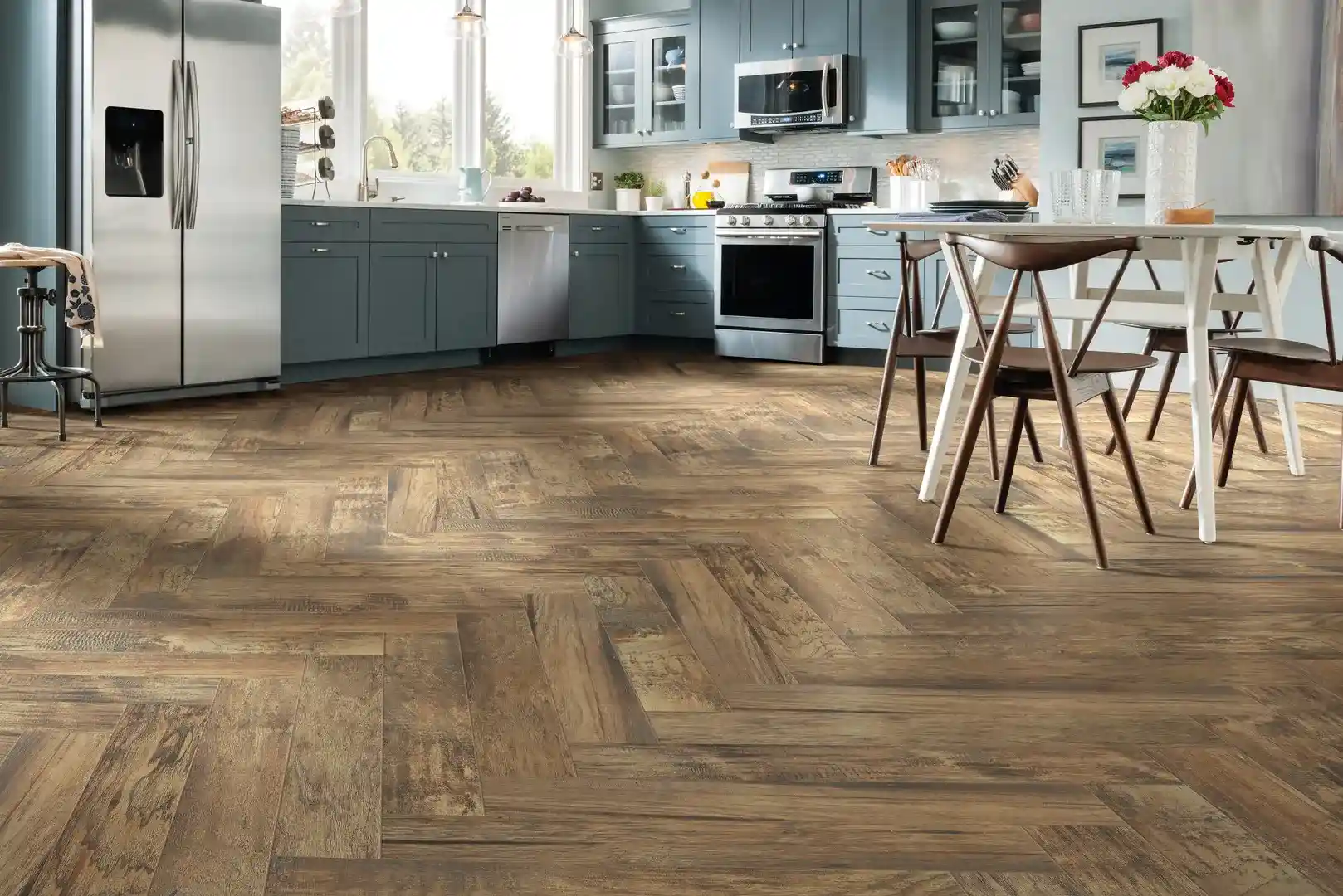 Durable Engineered Hardwood Flooring
When you want the traditional look of hardwood but the flexibility of different grade levels, engineered hardwood floors are the best choice! Engineered hardwood flooring is created from laminate layers. This layered design adds stability and prevents the wood from warping from moisture and humidity exposure. A real hardwood veneer at the surface, meaning engineered and solid hardwood looks identical from above. This type of hardwood is more affordable and durable.
Your new engineered hardwood floors are sure to last for generations. They are made to endure heavy foot traffic and exposure to heat and water. We have so many different styles and species at our showroom that you're sure to find a hardwood product that matches your decor. We proudly carry different hardwood species, including oak, maple, hickory, and more. Engineered hardwood's durability makes it perfect for bathrooms, basements, and kitchens. You can have it installed in any room of your home!
Benefits of Hardwood Flooring
More and more homeowners are choosing to upgrade their floors with hardwood flooring. Whether you're looking to renovate your residential or commercial space, hardwood flooring is a reliable choice. We only carry hardwood flooring from the best brands and manufacturers in the industry so that you are getting hardwood flooring that will not only look great but will also last for many years to come. These brands include Mohawk, Shaw, Floorcraft, Baroque Flooring, Mannington, and more. Here are some reasons why hardwood flooring is a great choice for your next flooring remodel:
Enhances the look and feel of your home by adding

a touch of elegance

.

Low maintenance and

easy to keep clean

.

Adds value

to your home.

Strong

and

durable

, meaning it can last for decades and is a great long-term investment.

Helps

improve interior air quality

.

Looks

great with any decor

style.

Comes in

various appearances

, colors, styles, stains, and species.

Improves acoustics

in your space.

Maintaining Your Hardwood Floors
Keeping your wood floors clean is a breeze. For lighter cleaning, regularly sweep and apply a dry mop to your floor for the removal of dirt and debris. To keep your hardwood floors clean and vibrant, we recommend using soap and water or a wood-specific cleaning solution. If you want your hardwood floors to be extra shiny, you can purchase a wood polish that will keep your hardwood looking brand new and can be used every 2-4 months. We are always happy to make a product recommendation within the warranty of your new hardwood flooring.
When it comes to hardwood floors, moisture matters. We know that we get a lot of humidity in the Southaven area, so it is important to keep that in mind when choosing your hardwood floors. Humidity can cause your hardwood to swell and expand, which can eventually lead to warping. Don't worry, though, there are ways to help prevent this! Maintaining humidity levels with a dehumidifier, air conditioning, or turning your heating system on every once during the humid months can help alleviate any damage caused by the excess moisture that humidity creates.
Professional Hardwood Flooring Installation Services
You can rely on us to install your hardwood floors quickly and efficiently. Our team of installers is expertly trained and will take extra care when installing your new wood floors. They are experts in their field and have years of training and experience under their belts. Our promise of a quality job is backed by some of the best guarantees in the industry, including our Ultimate Confidence Guarantee. This is our promise to you that should you find yourself unhappy with your new hardwood flooring for any reason, just give us a call within 30 days of your installation. We will replace them with a similar product at no additional cost to you.


Contact us to learn more about our hardwood flooring selection and installation services. We proudly serve customers in Southaven, MS, and the surrounding communities.