Southaven's Go-To Store for Durable & Affordable Laminate Floorings
Upgrade your home with brand-new laminate flooring that is not only affordable but also beautiful and durable at Tim Hogan's Carpet & Floors. We carry a gorgeous selection of laminate flooring that fits any budget, style, and functional needs. When you're ready to redo your floors, trust our flooring experts to guide you every step of the way—from selection to design & flooring installation. Whether you desire a rustic farmhouse look or a sleek modern design, you will find the colors, patterns, and styles to fit your unique taste, all from some of the best brands and manufacturers in the industry. Start shopping for your new laminate floors at our expansive Southaven, MS, showroom today!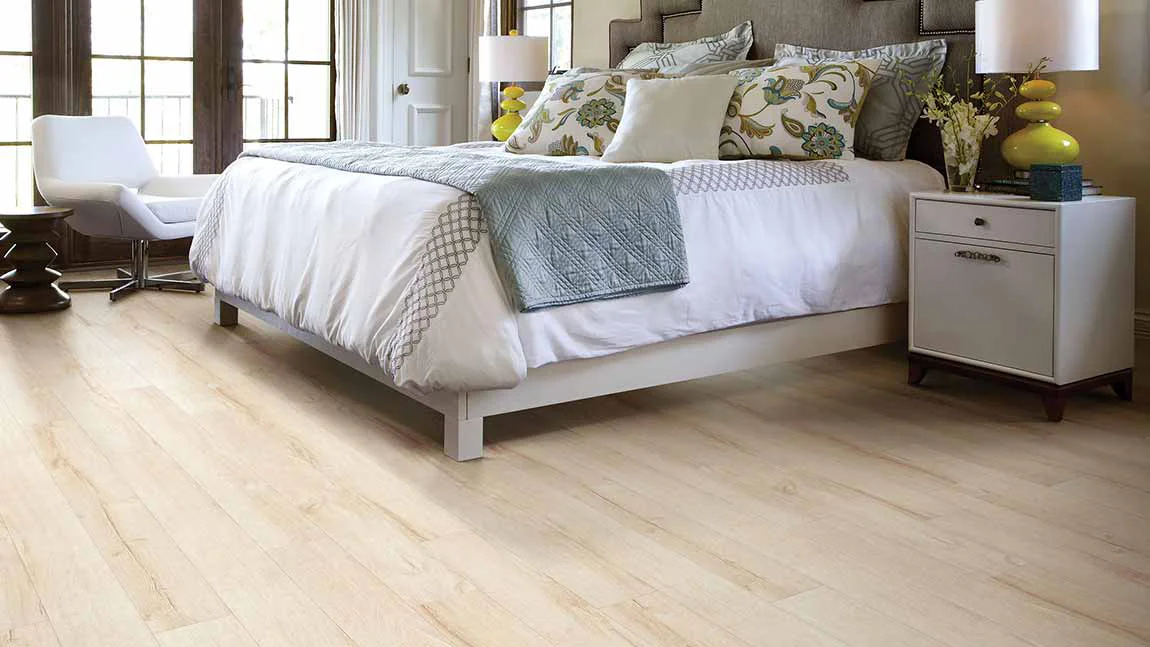 Our Versatile Types of Laminate Flooring
As one of our most popular flooring options, laminate flooring is composed of four layers. A back layer protects your subfloors and the rest of the laminate board. The rigid wood by-product core offers stability and a resilient feeling underfoot. Perhaps the most enjoyable part of shopping for floors is choosing the design layer. This offers the appearance of either real wood or tile in a variety of patterns and colors. Lastly, the protective wear layer brings the oops proof durability you need. This composition produces a beautiful and strong flooring option that closely resembles wood or stone surfaces. Learn more about the types of laminate flooring we carry:
Laminate Wood Flooring

is made to look and feel just like your favorite hardwood species such as mahogany, oak, and more. Complete in a variety of stains and patterns, you can achieve a wood look that upgrades the appeal of any room.

Laminate Tile Flooring

replicates the highly desirable appearance of real stone flooring at a lesser cost. Our stunning selection of laminate tile resembles porcelain, ceramic, glass, and more with all the affordable benefits of laminate.
The Difference Between Laminate & Vinyl Flooring
Our Southhaven customers often ask us, "Should I choose laminate or vinyl floors?" While both are wonderful flooring options, one may better suit your preferences over the other. The main difference is the core layer. Laminate's core layer is composed of a dense wood by-product, while vinyl's core is plastic. While luxury vinyl tends to be slightly pricier, it offers complete waterproof options. Laminate flooring's top protective layer is a completely smooth surface, while vinyl's top layer often has texture. Both laminate and vinyl floors are installed like a puzzle, with a tongue-and-groove design that easily fits over any subfloor. If you are unsure which type of flooring is best for your home, our flooring experts are here to help! Visit our Southhaven flooring store to view our selection and discuss your project with our friendly flooring team.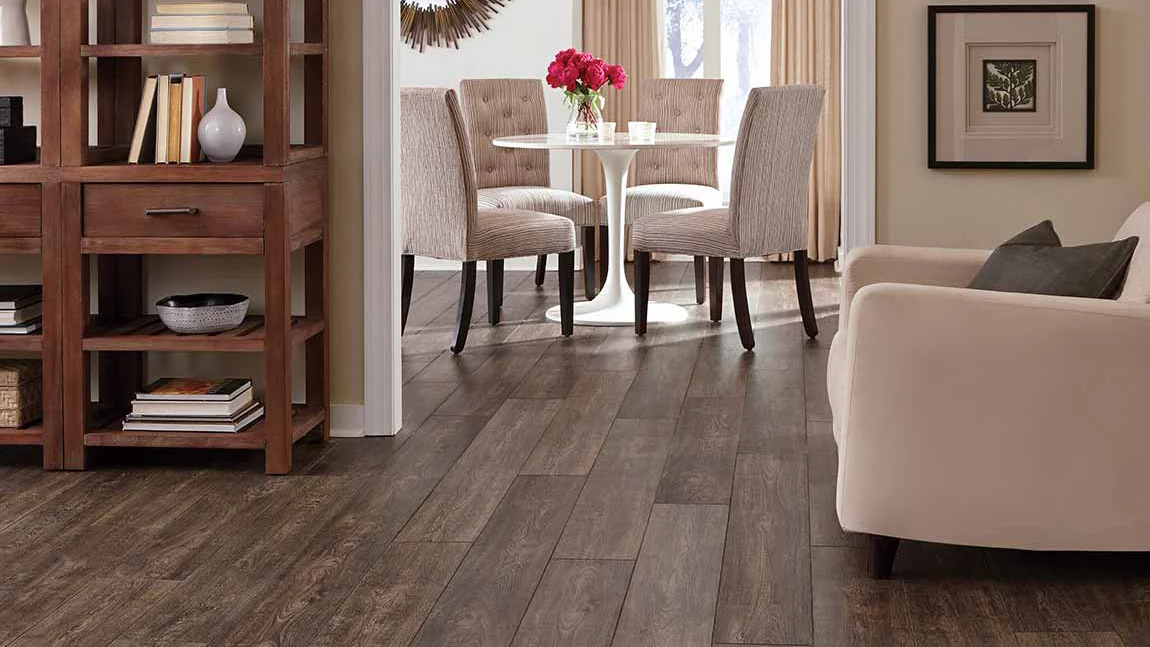 Is Laminate Flooring Waterproof?
If you are looking for flooring that can withstand accidents, spills, and Southhaven's consistent humidity, waterproof laminate floors are the perfect choice for you. How is laminate flooring water-resistant? The durable wear layer acts as a water-resistant seal to keep spills from penetrating into the flooring, making cleanup a breeze. This allows laminate to be installed in any room of your home, including the bathroom, kitchen, laundry room, and basement. The next time your kids run in with muddy shoes, or if you tend to wash yourself along with the dishes, you'll be glad you went with water-resistant laminate flooring. Ask our team about our water-resistant laminate flooring options!
Benefits of Laminate Flooring
At Tim Hogan's Carpet & Floors, we truly care about your long-term satisfaction, which is why we take the time to get to know your needs to find your perfect laminate product. We proudly offer you industry-leading laminate brands at great prices such as Rend Lake, Hawk Point, Valley Stream, Floorcraft, Mannington, Mohawk, Shaw Floors, and more. In addition to its water-resistant properties, discover all the benefits of laminate flooring for any room of your home:
Scratch, stain, fade, dent, & water resistant

Beautiful variety of styles to match any interior design

Comfortable, resilient feeling underfoot

Easy to install for a quick and long-lasting flooring solution

Achieve both durability and style at an affordable price
The Ease of Maintaining Laminate Flooring
Keeping your laminate floors clean is easier than you might think! While many other flooring types require refinishing or touch-ups, laminate needs very little of your time and energy. A simple maintenance regimen is all it takes to extend the lifespan and appeal of these durable floors. Follow our laminate flooring care tips for long-lasting beauty:
Clear dirt and debris with regular sweeping

Wipe up any spills with a damp cloth

Clean heavier messes with an occasional mopping
We always recommend checking your new floor's warranty before using any cleaning products, as they could damage your new floors. We are more than happy to make a laminate floor cleaner recommendation that fits your warranty.
Professional Laminate Flooring Installation
Count on us for a detailed professional laminate flooring installation. Once you choose your new laminate, we will work with you to schedule a time to perform the installation that works with your availability. Our expert installation team has many years of experience, allowing us to efficiently install your new floors with precision and skill. Whether you are upgrading the floors in one room or laying laminate throughout your home, take advantage of our competitive rates and fast installation services.
With our help, you never have to worry about the quality of your flooring project. Our promise of a job done right is backed by our Ultimate Confidence Guarantee, which assures any necessary repairs relating to the installation are free of charge within 30 days of your laminate installation. Are you ready to start your laminate flooring renovation?

Contact us today to learn more about our laminate flooring selection and installation services! We proudly serve customers in Southaven, MS, as well as the surrounding communities.